For our clients we conceptualize and implement digital projects: from app development, to the diversification and holistic website creation – with great success. For this purpose, our multi-professional team of designers and developers creates customized solutions that fit in with your product and service offering as well as with your company. Companies are not able to avoid dealing with digital transformation and therewith questioning their status quo, if they want to stay relevant in fast-changing markets. We hereby actively support you – and within the scope of the present project Pema Mall L.L.C., whose online sales platform we restructured, designed and organized in a customer-friendly manner.
Goal of the project
Website Development
Redesigning the online shop
Logo creation
Increasing website performance and usability
Brief Profile: Pema Mall L.L.C.
Pema Mall L.L.C.
Headquarter: Prishtinë
Line of Business: Online Sales Platform
Web: pemamall.com
Pema Mall L.L.C. is an online sales platform with its headquarter in Prishtinë. The e-commerce offers different product categories comprising technology, cosmetics, interior and much more.
E-commerce Concept: Timely And Content-Related Planning
As a first step, our team defined – in consultation with the client – the main goals of the project: the re-structuring of the website and the entire product range, the online shop's re-design, as well as the increase of the website's performance and usability. The primary website has been replaced completely, the new version has been created implementing the latest technology available.
Project schedule: Starting the project, our consulting team compiled an overview of upcoming tasks, which have been prioritized in a second step. This approach enabled formulating a first estimation of the project duration, the assignation of capacities and the forecast of three possible scenarios. The latter approach guarantees a timely completion of the project whilst taking into account possible obstacles and challenges.
Idea generation & design: A regular communication with the client builds the foundation of our modus operandi. The close collaboration and weekly consultations ensure a successful project outcome. In order to adjust the design, our design team created a style guide, which introduced colors, fonts, company logos and further design elements. These represent not only the company's values as well as its personality, but also guarantee a coherent appearance of the online presence. Furthermore, our team performed an UX-review, testing the design and user-flow, and identifying elements in need of correction. When compiling the style guide, our team took into consideration best practices for website design, the design itself has been implemented using the famous Figma tool. The interface design tool is amongst the most popular ones in the design world – for a reason: it improves the intra-team collaboration and communication, and enables it to edit and share feedback in real-time. The Pema Mall logo has been adapted, too. The original design was pale and pastel-colored – a color selection we discourage our e-commerce clients from using. Instead, our design team used a vibrant aquamarine, which combines the color effects of both blue and green: blue stands for freshness and clarity, whilst green is relaxing and positive.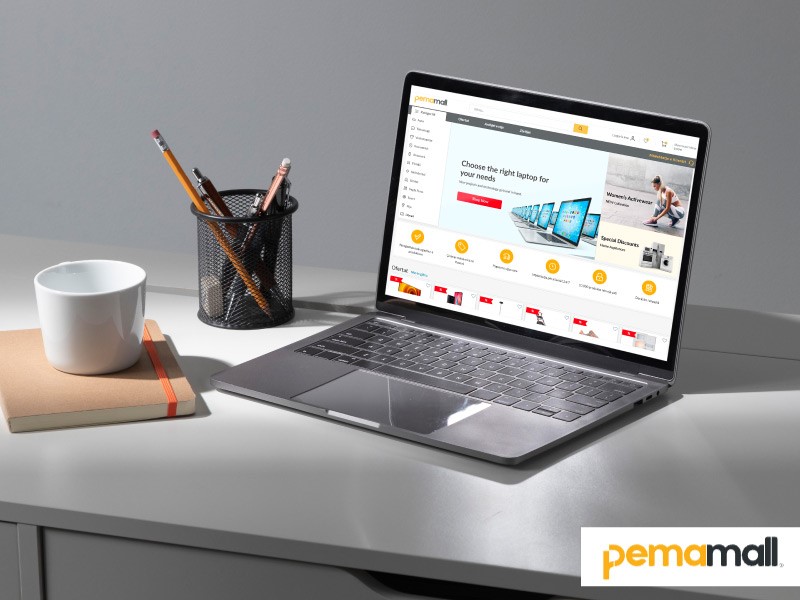 Function extension: Since the present e-commerce comprises more than 20.000 products, the focus is on its function extension. Especially search options had to be simplified and upgraded. Website elements like filters and a wish list have been transferred from the previous website, but have been arranged more neatly and in a customer-friendly way. The web platform's entire buying process has been revised: the checkout-process offers clients multiple payment options, the payment setup is easier and safer. The new version enables clients to buy as 'guests' – without having to register or share too much information. This is important because the checkout process is a fundamental success factor – about 70 percent of clients abandon the website in this phase of the buying process. By ensuring an aesthetic design and abbreviation of the checkout flow we prevent this undesired result, and even optimize the user experience through comfortable payment procedures.
Challenges: The biggest challenge was the organization and administration of an extraordinary amount of data. Up to now, the Pema Mall online sales platform comprises about 20.000 products, in the future up to a million. These had to be arranged in categories and made accessible via reasonable filter options and an easy navigation – whilst reducing the sites' loading time to a minimum. A multitude of different challenges that our design and developing team overcame successfully: for our projects, we only bet on the best in their field.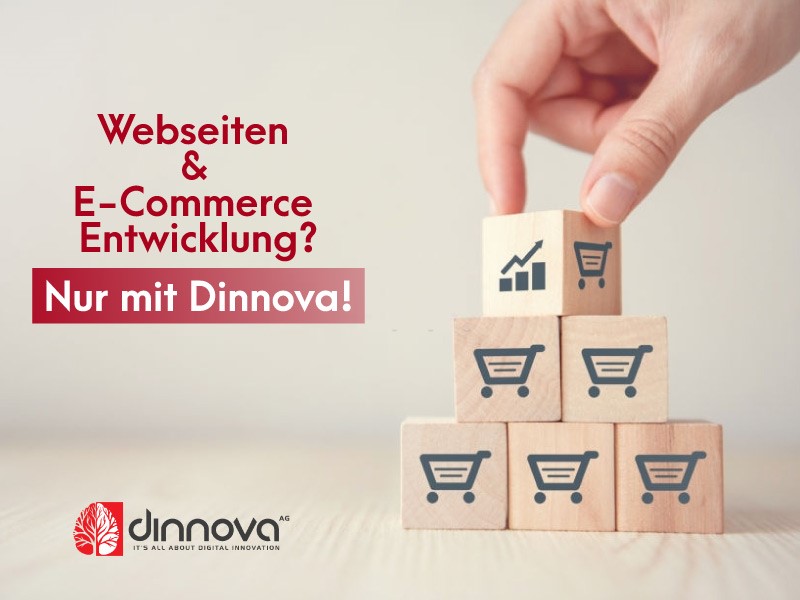 Write Your Own Success Story – With Dinnova
You expect a clear goal definition, prioritization and successful project completion? Then we are your best bet when it comes to digital transformation and formulating a new digital strategy: Dinnova is the business partner you were looking for! We conceptualize, create and optimize existing as well as new websites and e-commerce – from their content, to important functions, to their best performance. Reach out – our service team is looking forward to hearing from you, and we are looking forward to working together in the future!